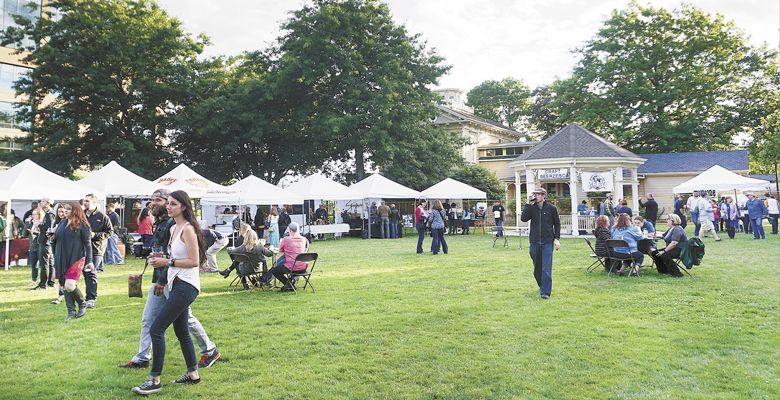 Crafty in the 'Couv
By Viki Eierdam
Inclement weather on Friday, June 10, may have delayed the arrival of eventgoers, but it didn't dampen the spirit of The Craft Beer & Winefest of Vancouver. In the end, approximately 3,500 guests attended the three-day weekend festival. Blues music, artisan food, and a bevy of beverages kept ticketholders returning for more each day.
The vision of organizers Rusty Hoyle and Sherie Szubski is to focus on local craft products. With some exceptions, only Washington beverages were poured, including nine wineries based in Clark County; others represented Woodinville, Toledo, White Salmon, Zillah and Walla Walla.
Hopheads were excited by more than a dozen breweries on hand, and even TooleyBender Cider poured their Pineapple Paradise and Boulder Berry for a crowd that's increasingly enjoying this refreshing alcoholic option.
The addition of a bourbon tasting room proved popular. Five Washington distilleries showcased artisan-crafted bourbons, and Battle Ground's Double V substituted corn whiskey at the event; the distillery is waiting for its three-year-old barrel bourbon whiskey to age to perfection, aiming to release it this fall.
Mixing things up, author/speaker Judy Bennett delivered a brief commentary entitled "Is Wine a Super Food?" She returned Sunday with "Seven Ways Your Bloody Mary Can Make You a Hottie." Bennett, a wellness educator and realist, appreciates how people who want to have fun also want to be fit. She's done the research to determine that, in moderation, alcohol can actually help people reach their fitness goals, and she enjoys sharing that knowledge in a variety of settings.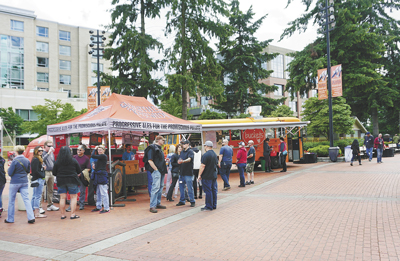 Vendors were chosen appropriately for the crowd. Bella Vine Candles sold their recycled wine bottle candles; Brevin's Solid Gold Fudge peddled wine-friendly flavors like Merlot; NW Bierhaus Jerky invited guests to sample their wares made with local beers and wine; For Your Glass Only sold its jewelry-inspired wine markers; and Olivers Gourmet, purveyors of all things pickled, provided the Blood Mary Mix for Sunday's popular Beers, Bloodys and Blues.
Savory aromas filled the air, encouraging guests to sample a variety of handcrafted food. Rusty Grape Vineyard offered their ever-popular wood-fired pizzas; Rolling Pin Eatery, co-owned by award-winning chef David Brown, tantalized with pulled pork or blackened salmon served in savory waffle cones; Buckets Food Truck dished out beer-inspired chili and crowd-pleasing grilled sandwiches; and Dad'$ Hot Dogs sold Chicago-style Polish dogs heaped high. Other vendors added to the smorgasbord of options.
Four-legged friends also enjoyed what has always been a dog-friendly fest with water bowls placed around Esther Short Park, the unofficial living room of Vancouver and venue for the event.
Always important to the craft beverage scene is giving back, and The Craft Beer & Winefest is no exception. Prior to the festival, bins were placed throughout Clark County in an effort to raise 10,000 pounds of food for Share House; all were relocated to the park entrance during the event. Each attendee who brought a bag of unexpired, nonperishable food received three additional tasting tickets. The Evergreen School District Foundation (ESDF) also benefited from a portion of ticket proceeds.
"We unloaded two trucks (of food) on Monday and, before the festival, we had a little competition among the wineries on who brought in the most food," Szubski said. "Heisen House Vineyards won with Emanar (Cellars) coming in a close second.
"From what we've heard and what we feel, it was the best year yet for The Craft Beer & Winefest as far as guest enjoyment," she continued. "They stayed long and we had many come back a second and third day. [Next year] promises to be even better."
For more information about the festival, visit www.thecraftwinefest.com.