DIRECTIONS & TRANSPORTATION
Location:
Esther Short Park is located at 605 Esther St, Vancouver, WA 98660. Entrance is on the corner of 6th St and Columbia St. Parking is just East of Columbia St on 6th St, on the North side.
Lodging:
Stay at the beautiful brand new ilani Casino hotel to round out your weekend. Click here for booking.
Transportation
We always recommend designated drivers or alternative transportation when planning to attend a festival for everyone's utmost safety. Catch a ride on the bus down, or get an UBER.
We are located at: 605 Esther St. Vancouver, WA in the Heart of Downtown Vancouver, USA
From I-5 South:
Take Mill Plain exit 1-C. Go west on15th street to Columbia. South on Columbia to 8th street. West on 8th street to the Farmer's Market.
From I-5 North:
Take Exit 1 -B - 6th St./City Center. Follow signs to 6th Street. Proceed west on 6th Street to Esther Street.
From I-205:
Take hwy. 14 west to the 6th St./City Center exit. Follow signs to 6th Street. Proceed west on 6th Street to Esther Street.
Off-street parking is available in five nearby facilities or lots. These include the Park 'n Go Garages located in Vancouver Center (on 6 th St. between Columbia and Washington) and the West Coast Bank Building (accessed on the south side of the building from 5 th St.).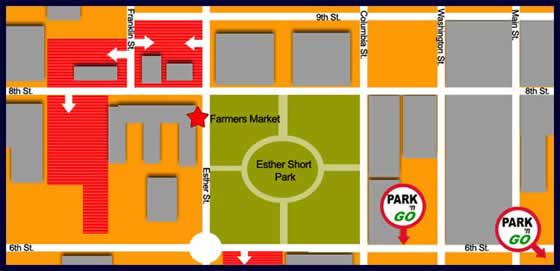 In addition, surface lots are located behind office buildings north of 8th St. and across the street, west of the Columbian building at 6th and Esther. All of these parking options are identified in red on the map above. Volunteers from non-profit organizations manage the surface lots and ensure that any restrictions are enforced. $2 donations would be appreciated in support for this organization.
Please honor any restrictions for the use of these lots.
There are reserved spaces that must remain available in the parking lots for their weekend staff.
Please enter this lot from 8 th St. only.
About Park 'n Go in Vancouver center . . .
Recognizing the importance of affordable and convenient parking options for the success of downtown redevelopment efforts, the City of Vancouver owns and operates this and other Park 'n Go garage facilities in Vancouver. The Vancouver center Park 'n Go garage has 800 spaces, with parking options that includes daily, monthly, residential, and secured parking.

City of Vancouver Parking:
360 696-8159

Vancouver center Parking Garage
Operation and Rate Schedule
Hours of Operation:
Monday - Thursday 6 a.m. to 10 p.m.
Friday and Saturday 6 a.m. to midnight
Sunday 8 a.m. to 10 p.m.
Payment:
Parking Pay Stations accept nickel, dime, quarter and one dollar coins. VISA and Mastercard are also accepted. Or, use the Parking Kitty app to pay with your phone and receive alerts.